Umphrey's McGee After-Party
Oukuo
Immediately following Umphrey's McGee at The Capitol Theatre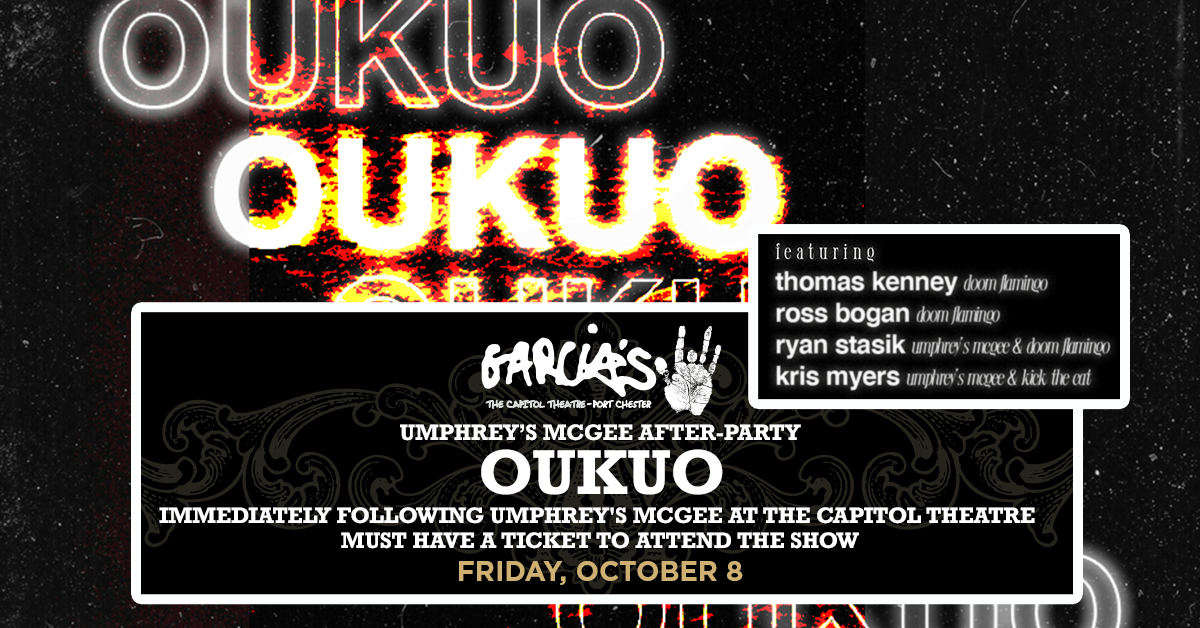 October
08
, 2021
/ Friday
Umphrey's McGee After-Party
Oukuo
Immediately following Umphrey's McGee at The Capitol Theatre
Date

October

08

, 2021

/ Friday

Doors Open

11:00 PM

Start Time

11:00 PM

Ticket Prices

$30.00

Venue

Garcia's at The Capitol Theatre
Port Chester, New York

On Sale

On Sale Now

Please Note

Must be 21+ with valid ID.
Umphrey's McGee After-Party
Oukuo
Immediately following Umphrey's McGee at The Capitol Theatre
Event Details
Please review our updated health and safety protocols here.
OUKUO explores a new world of sound system rattling music, fluidly merging a variety of electronica sub genres such as break beat, house, jungle, IDM, hip hop, and more. Producer Thomas Kenney aims to explore his compositions in a multi format live experience, shifting between solo DJ sets, drum and DJ duos, or a full live band laden with analog synths, sequencers and samplers. You may hear influences such as Bonobo, Machinedrum, Photek, and more, but you'll most certainly hear his decade-in-the-making style at the forefront.
OUKUO is:
Thomas Kenney (Doom Flamingo)
Ross Bogan (Doom Flamingo)
Ryan Stasik (Umphrey's McGee & Doom Flamingo)
Kris Myers (Umphrey's McGee & Kick the Cat)
DOORS OPEN: 11:00 PM
START TIME: 11:00 PM
Top