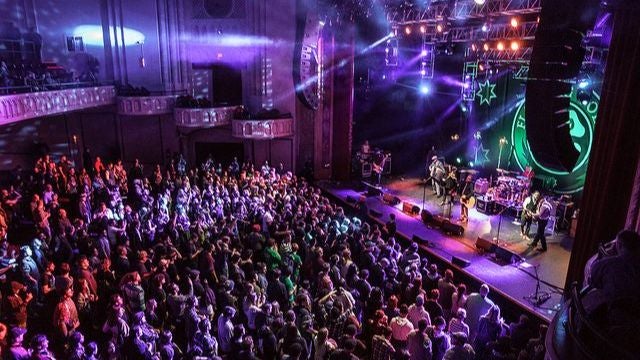 Ticketing Terms & Conditions Regarding COVID-19
ADDITIONAL TICKETING TERMS REGARDING COVID-19
COVID-19 AND VENUE CAPACITY
Evolving health and safety guidelines regarding COVID-19 may cause changes to the capacity, admission prerequisites, and other health and safety protocols of The Capitol Theatre and Garcia's. We reserve the right to cancel your ticket and provide a full refund if our venue capacity is reduced.
COVID-19 SAFETY MEASURES
By visiting or entering The Capitol Theatre or Garcia's, you agree to abide by all COVID-19 safety measures we have implemented for patrons and others. These measures may be changed from time to time and may include, but are not limited to, certifying that you have been vaccinated or tested for COVID-19 prior to entry, wearing masks when not eating or drinking, and social distancing when reasonable. The most current safety measures will be posted at each venue and are available online here.
COVID-19 WARNING AND WAIVER OF CLAIMS
THE CAPITOL THEATRE AND GARCIA'S CANNOT PREVENT YOU FROM BECOMING EXPOSED TO, CONTRACTING, OR SPREADING COVID-19 WHILE YOU ARE IN OUR VENUES, AND BY CHOOSING TO ENTER, YOU UNDERSTAND THESE RISKS, AND YOU EXPRESSLY WAIVE ALL CLAIMS AGAINST THE CAPITOL THEATRE OR GARCIA'S WHICH MAY OCCUR FROM YOUR CONTRACTING OR EXPOSING OTHERS TO THE CORONAVIRUS.
By entering The Capitol Theatre or Garcia's, you acknowledge that you have read and understood this warning and voluntarily and knowingly assumed all risks of entering a public place during the COVID-19 pandemic, and you release The Capitol Theatre and its affiliates from any and all liability for any damages, illness, medical expenses, injuries or death that may occur to you or whomever may contract the virus due to your exposure.
OBTAINING A REFUND AFTER A POSITIVE COVID-19 TEST RESULT
If you test positive for COVID-19 within 48 hours of the show for which you hold tickets, you will not be granted entry to the venue and may obtain a refund by sending your order number, ticket details and a scan of your positive test result to [email protected].
For full terms and conditions applicable to ticket purchases, please click here.
Top