Tedeschi Trucks Band "Keep On Growing" in Every Sense
reCAP: Tedeschi Trucks Band, March 24
Words by Ryan Hall
Photos by Marc Millman and Geoff Tischman
In the early 90s, the Allman Brothers Band was in Miami recording a new album. Tensions and stress levels in the band were growing. If you've ever read Gregg Allman's memoir (which is where I learned this story) you'll know what I'm talking about.
Gregg is taking a nap in his hotel room when he hears a knock on his door. It's founding Allman Brothers member and drummer Butch Trucks.
"Get dressed, there's a guitar player I want you to see." While he was tired, he got dressed and accompanied a few of the guys in the band to the club.When they drove up, Gregg noticed two young boys playing catch outside the club. One of the kids was maybe 10 or 11.
The guys walk into this tiny club and take seats in the back of the room to try and avoid being noticed. When the band took the stage, Gregg noticed that one of the kids who was playing catch outside was in the band.
"What is this," a grumpy Gregg says to Butch.
"Just watch…"
The kid straps up and plugs in a cherry red Gibson SG, puts a glass slide on his finger, and proceeds to metaphorically light that guitar on fire!
"Wait a minute! That's your nephew, isn't it?" Gregg says to Butch a few songs later.
"Yep!" Proud uncle Butch says about his young nephew Derek Trucks.
Needless to say, that little kid has grown into quite the guitar slinger!
Derek would occasionally sit in with the Allmans from the time he was around 13 up until he joined full time when he was only 19. And while on tour with the Allman Brothers Band, he met and started dating Susan Tedeschi, whose band opened for the Allmans one summer. And unlike many musician power couples, Derek and Susan got married and had a couple of kids before they formed a band together.
Pulling together elements and influences from both their solo bands, Tedeschi Trucks Band is in many ways the musical and spiritual evolution of the Allman Brothers, with twin lead guitars and dual drummers. But TTB could be closer compared to the mammoth Mad Dogs And Englishmen project that Joe Cocker put together many years ago.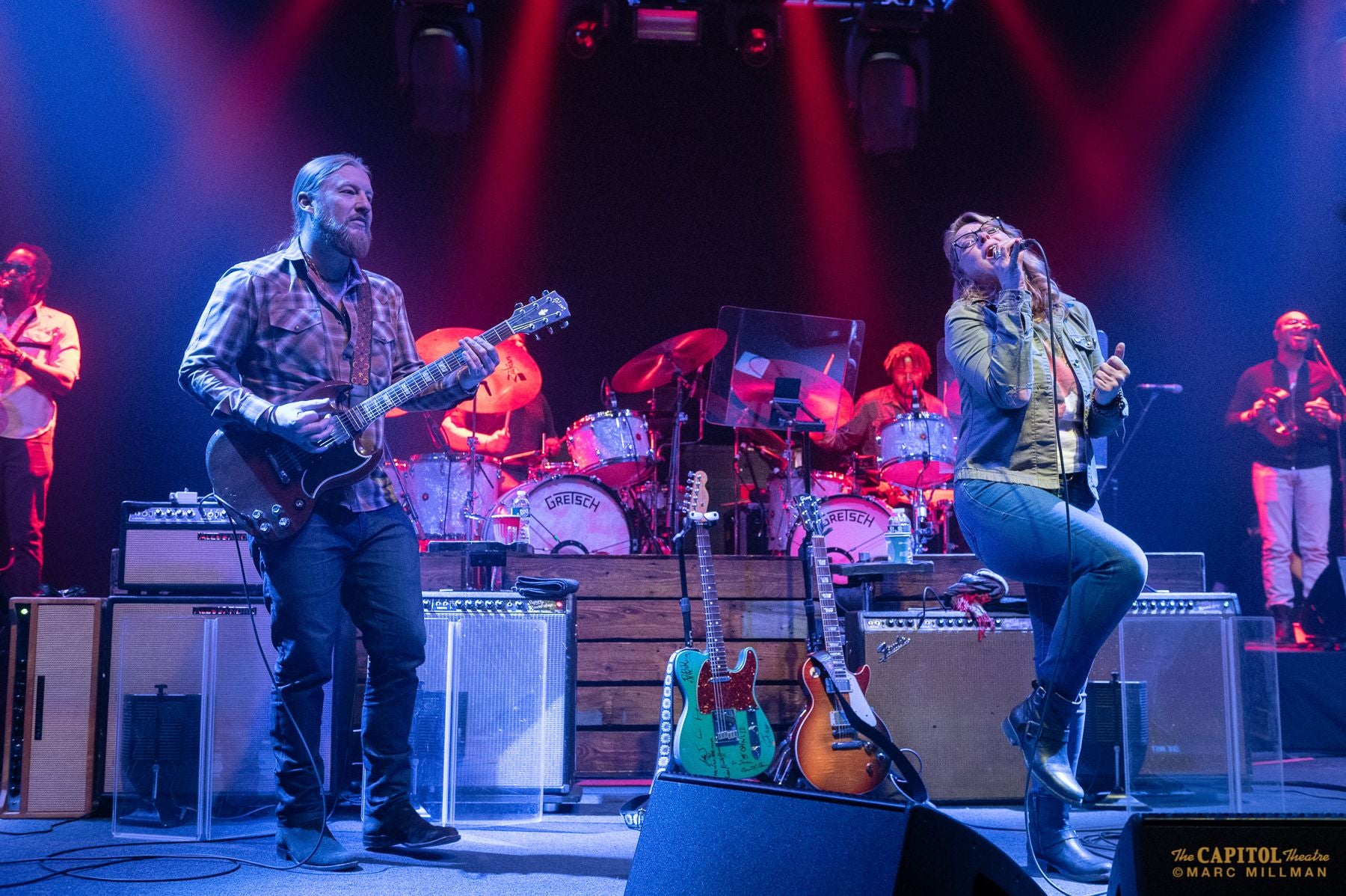 Brooklyn's The National Reserve opened the evening's festivities. Sadly I missed the first few songs from their set thanks to a train mixup from my home in Stamford. But what I saw, I really dug. They've got a refined sound that had elements of the blues, country, and New Orleans style funk. Lead vocalist and guitarist Sean Walsh has a voice that has a John Cougar raspiness that I really appreciate. With Jon LaDeau on guitar, Matthew Stoulil on bass, Steve Okonski on keyboards, and Brian Geltner on drums - I will be digging more into their stuff.
Now, I've seen a lot of concerts in my day. Many of them I have seen right there at The Cap. TTB started their show in a way I can't say I have ever seen before. They take the stage, and seemingly start to noodle around. But there was a method to this noodling. Because it led directly into a rocket called "Let Me Get By." They started off with the pedal to the metal and didn't let off all night.
Something that is impossible not to notice is… TTB is a massive band! Aside from Derek and Susan, you have drummers Tyler "Falcon" Greenwell and newcomer Isaac Eady, bassist Brandon Boone, singers Mark Rivers, longtime Derek Trucks collaborator Mike Mattison, and Alecia Chakour. And that's ONLY stage left! On the other side are their full horn section with Elizabeth Lea on trombone, Ephraim Owens on trumpet and Kebbi Willams on sax. And finally you have Gabe Dixon on keyboards and vocals.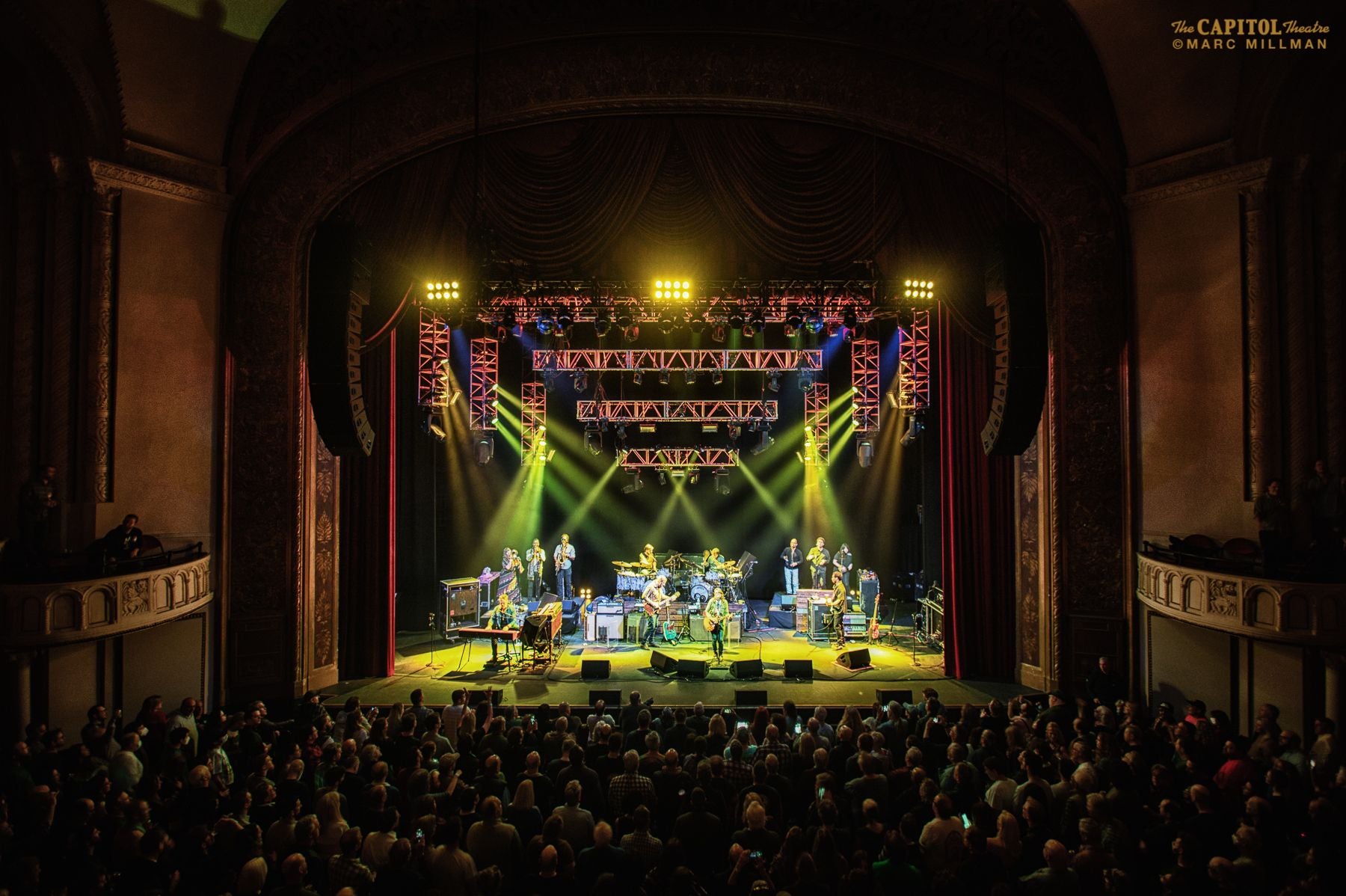 I could spend the rest of this reCap gushing about Derek's guitar playing. And he was in rare form this night! Or I could spend the rest of this reCap gushing over Susan's vocal performance. And she was in fine voice this night!
But let's talk about this wondrous setlist. If you have magical originals like TTB has, you could play a whole show of originals. But they always mix in tons of choice covers. Like Elmore James' "Done Somebody Wrong" (featuring Gabe on lead vocals),"The Letter" from the Box Tops (and covered by Joe Cocker on that "Mad Dogs And Englishmen" album"), and "Why Does Love Got To Be So Sad" from the iconic "Layla" album from Derek And The Dominoes.
Side note: TTB with Trey Anastasio and Doyle Bramhall II recorded a cover of that very album at the Lockn' Festival a couple of years ago. And if you haven't heard that album, you must correct that error.
Of the covers they played, my favorite was "Angel From Montgomery" - the John Pine classic. "Angel" has been in Susan's repertoire for many years, even before TTB came together. As soon as Sue sang "I am an old woman, named after my mother," the waterworks hit me hard. Long story short, "Angel" reminds me on a deep level of the very reason I became a music fan and connoisseur…my late father who was originally from Montgomery, Alabama.
I'll leave it at that.
I'd be remiss if I didn't speak about the main set closer, "Idle Wind." This song was on their 2013 album "Made Up Mind" and has been a concert staple ever since. This song is known for the masterful flute solo in the introduction played by the late, great Kofi Burbridge. I couldn't help but notice a flute on stage in front of Kebbi, but there was no flute solo played at the intro. This feels like a beautiful salute to their fallen brother Kofi.
While Kofi's body may no longer be on that stage, his presence is still absolutely felt. Even one of the tech roadies was wearing a t-shirt that read "Kofi" with a heart for the O in his name.
On the album, "Idle Wind" is a standard length five-minute album cut. On the Cap stage, they managed to turn this song into a 20 minute magical jam fest that reminds you simply how good these cats are.
But we need to talk about Derek. 50 years from now, we're going to look back at Derek Trucks the way folks of a previous generation talked about seeing Hendrix play live.
"Yeah…I saw Trucks at the Capitol Theater."
"NO WAY!"
"Yeah! On a Thursday night in late March back in '22!"
More than any guitar player I have ever heard, Derek tells stories with his solos; with a beginning, middle, and end. With more dramatic plot twists than a cracking novel. And he does it all simply by plugging a cherry red Gibson SG straight into an amplifier. Not unlike what young Derek did at that tiny little club down on South Beach.
A Tedeschi Trucks Band live concert is simply an experience. It'll wear you out. It'll drain your soul. And you'll want more.
They really are a freight train of soul!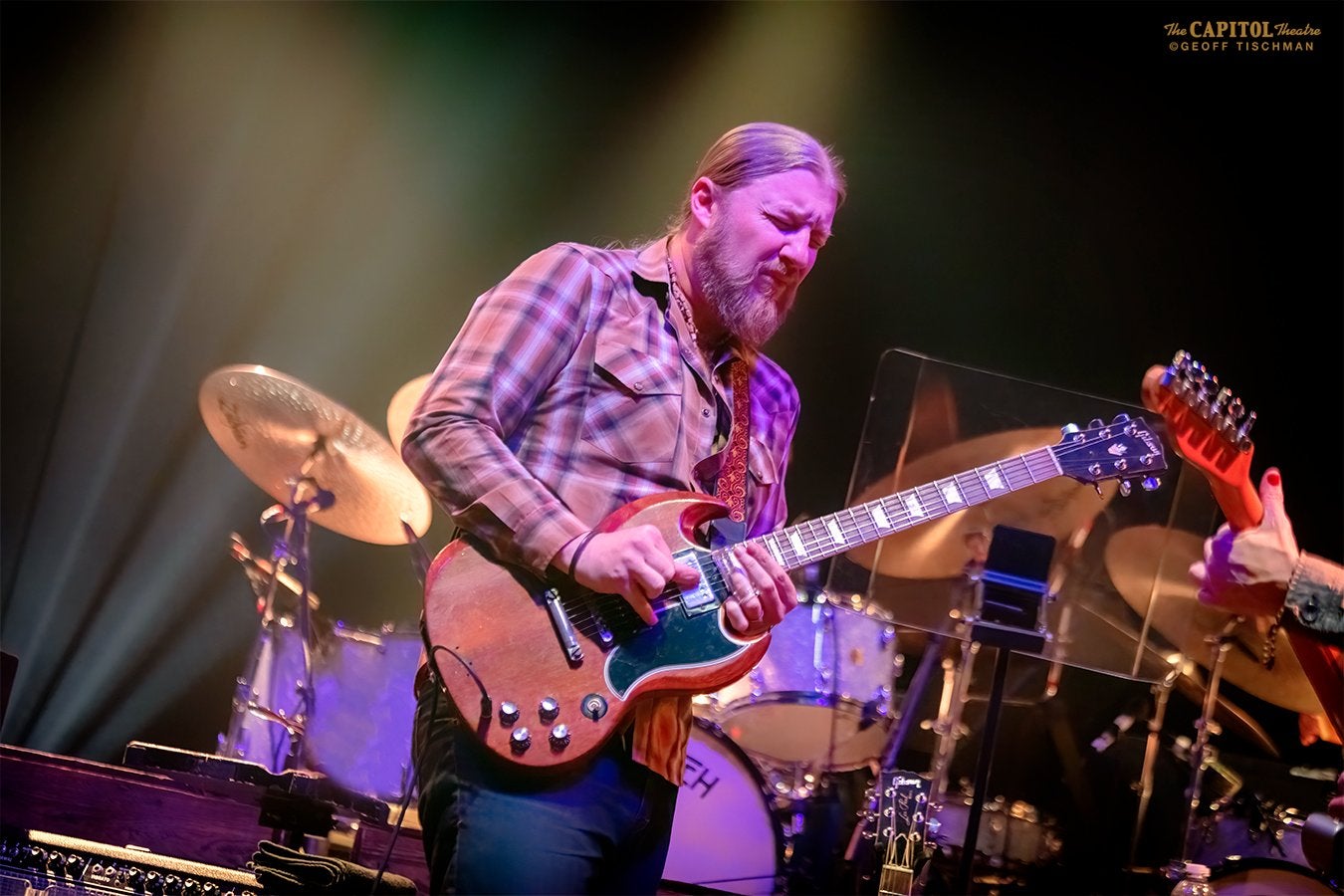 reCAP: Tedeschi Trucks Band, March 24 - 26
Words by Chad Berndtson
Photos by Andrew Blackstein and Dino Perrucci
Among many remarkable things the Tedeschi Trucks Band have achieved in the last 12 years as an active band is in how they've used their time. They've gradually grown into their bigness, in a way that some large-roster bands never do, or only hint at. Today, they are taking the kinds of chances and hitting the kinds of varied dynamic peaks that only bands sure of their chemistry—no matter how large or small—can approach.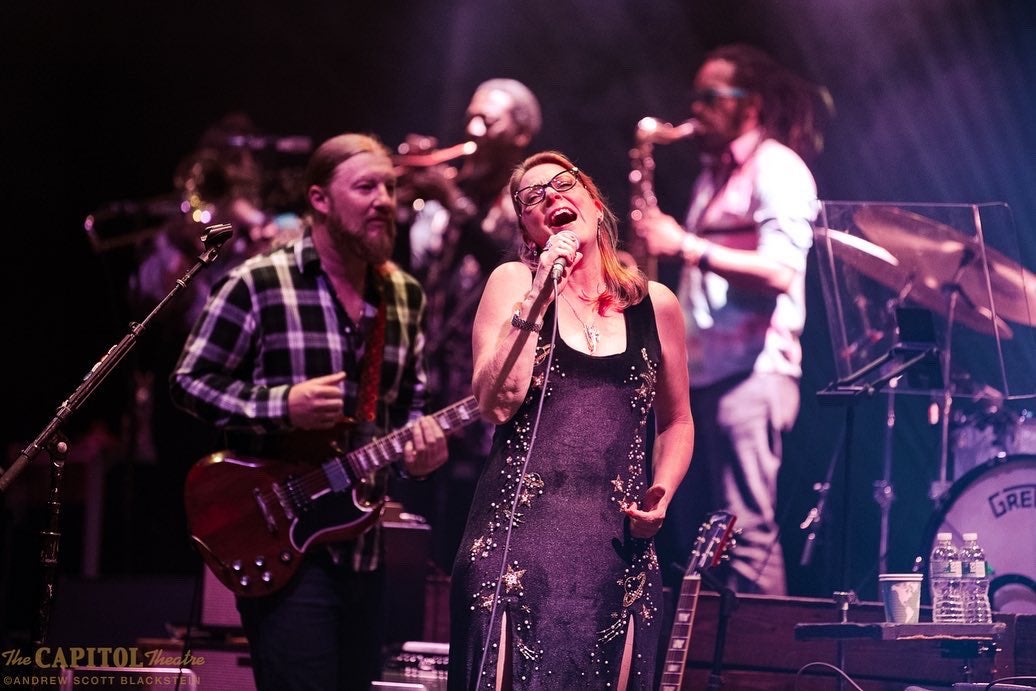 Near the beginning of their existence, TTB were still developing original material, leaning heavily on cover songs, beginning to test the full strength of a large band with a lot of firepower in it. Their shows were never tentative, and sure, the full roster of the surrounding band—loaded with horns, singers, and the rumbling rhythm section and its sturdy chassis—would color the songs, and there'd be good opportunities for individual members to take turns in the spotlight. But these days, TTB is something truly bigger. They move as one, shape-shifting unit, unafraid to overwhelm the music and really leaning into full-band energy. Susan Tedeschi and Derek Trucks remain the musicians around whom everything orbits, but TTB is fully realized, with a deep catalog to match, so much more than "just" a large, exciting band with featured players. No wonder they hoisted a well-deserved "Rock My Soul" trophy at the end of this weekend's three-night Cap run.
At Friday's show, the second of the three, they went hard at two expansive sets that touched on just about everything they can do as an ensemble, mixing their varied originals in with well-served covers from Willie Nelson, Derek & the Dominos, and a passel of blues masters. The first set opened with a sparking "Anyhow," moved through the jaunty "Joyful Noise"—the Paul Pena classic and a holdover from the Derek Trucks Band era—and settled in for tender versions of "Bell Bottom Blues" and Nelson's "Somebody Pick Up My Pieces," which Tedeschi dedicated to the late Bobbie Nelson.
Up next were "Don't Let Me Slide," a slow-boiling ".44 Blues," an amped-up "Joyful Noise" that saw bold, building solos both from Trucks and keyboardist Gabe Dixon, and a typically stunning "Midnight in Harlem" that gave way into a ferocious "Made Up Mind" to cap the first set. There were the expected big moments; when it's Trucks' time to solo during "Midnight in Harlem," for example, you batten down the hatches and wait for the fireworks. But as ever with this band, there are the smaller, lagniappe-like moments, too: Dixon adding somber melodica to "Pieces," Trucks showing masterful restraint in a slide-soaked ".44" solo, Kebbi Williams' playing an ethereal sax intro to "Midnight in Harlem," trumpeter Ephraim Owens and trombonist Elizabeth Lea providing just the right shading to any number of tunes, or singer Mark Rivers delivering lip-smacking vocal improv during "Made Up Mind" that brought thunderous applause.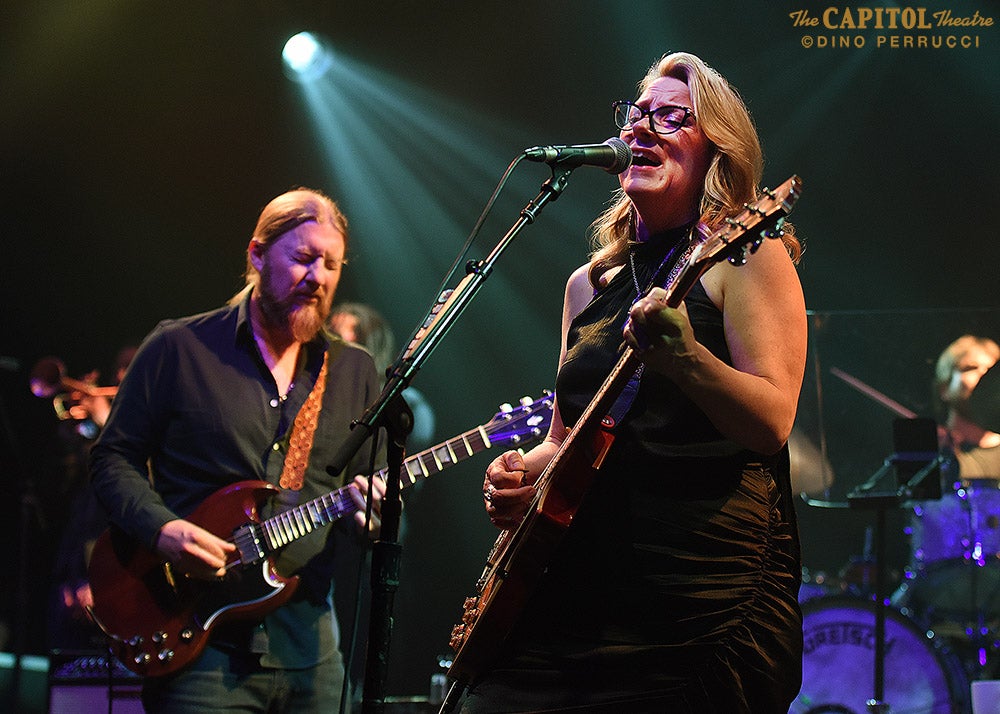 Along with growing into their bigness, the TTB have also evolved to jam economically—every song feels like the right length, and even when they're going long and improv-heavy, they resist the urge to have every band member take a solo, or protract tunes longer than they need to. Set Two led off with a tight capture of George Harrison's "Isn't It a Pity," with Tedeschi leaning into the weary-world vocals as if for the first time. Then came the mischievous, loping "Right On Time"—wondrous in that it sounds like nothing else in the TTB catalog—and the Allman Brothers' "Don't Keep Me Wonderin," sung by Dixon. A massive excursion into "I Want More" came next, complete with a percussion jam from drum corps Tyler Greenwell and Isaac Eady, a free-jazz fuzz-out as Williams snuck in behind the drummers to blow a creative improv, and then a long build back to finish the tune with the full band. "Ball and Chain" and "Part of Me" were showcases for Tedeschi and for vocalist Alecia Chakour, and "Outside Woman Blues" came through greasy as all get-out—a roadhouse detour after all that soul and R&B before it. Bassist Brandon Boone was the linchpin of a great many rhythmic and tempo shifts throughout this set; no longer "the new kid" Boone takes hold of this music and fearlessly shoulders it.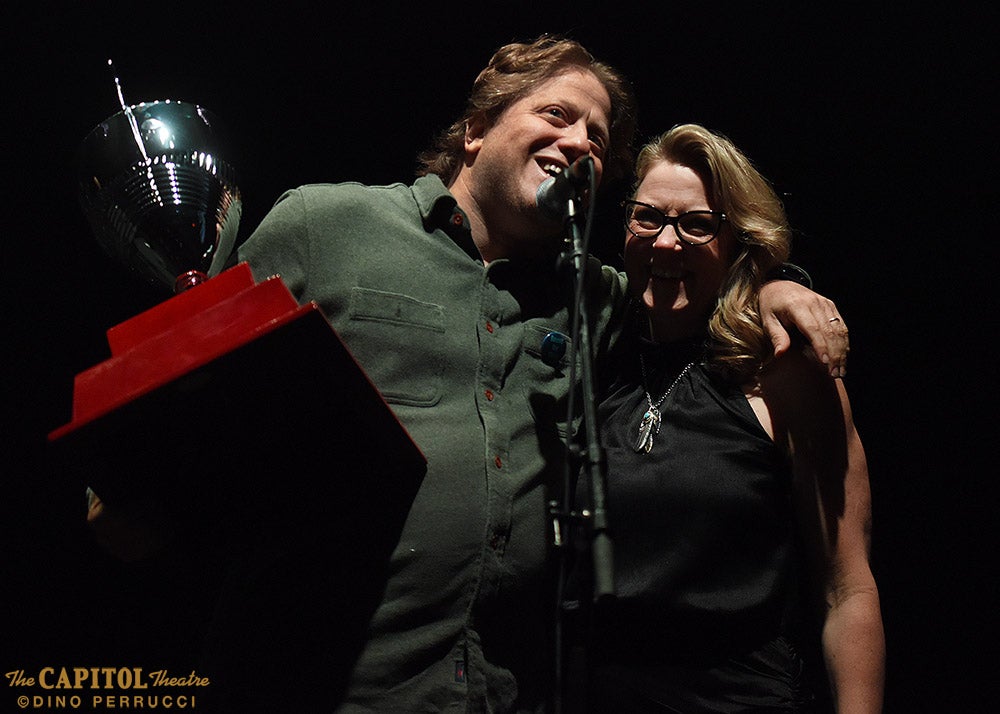 All TTB roads lead back to its namesakes, and for good reason. Tedeschi was on all night, from the tenderest folk and soul to toothy blues. She took full command of the set 2-closing "How Blue Can You Get," belting out the classic verses, then taking the guitar solo, then, knowing she'd crushed it, returning to the vocal with some curled-lip snarl, basking in a well-earned ovation. And Trucks ... well, what more is there to say? The greatest guitarist of his generation can still stop time with a continuum-shattering solo, and he delivers at least one of those at every show he plays—chills, thrills, hairpin turns, roiling builds, electric-shock fireworks, and a megaton climax in that very Derek Trucksian way that shakes you into near-disbelief even if you've heard him solo 1,000 times before. On Friday, there were a few of those, and this writer's favorite was the build out of "Keep On Growing"—up and up and up until it was a full-blown guitar inferno. Listening to this band, you wait for those moments, and they never disappoint, but then you also think back on all the small details you didn't know you were getting, and you feel that much more full, in heart and in soul.
Top