It Was 50 Years Ago Today: The Grateful Dead's First Show at The Cap
The Grateful Dead first came to Port Chester on March 20, 1970. Just a few years into their evolution, the Dead's historic 1970 and 1971 shows at The Cap capture the early Dead magic, where they pushed the boundaries of music and imagination.
Here's an article that was published on that beautiful day in Port Chester's newspaper, The Daily Item.
(Transcribed from The Daily Item, Port Chester, N.Y. FRI. March 1970)
"Spotlight on Grateful Dead" By Bob Lardene
NEW YORK - There's not a conformist among the seven fellas that make up The Grateful Dead. Rhythm guitarist Bob Weir, 22, reveals that each of the group's members is married unofficially.
"None of us believe in marriage licenses," says Weir. "We've seen too many marriages go wrong to have much faith in the institution. Our old ladies don't object to the arrangement. The chicks accept the idea of living with us without being officially wed."
What about children born of these "marriages"?
"Oh, several of the guys have fathered kids," says Weir. "They have wonderful family situations. They live with the chicks and are very good with the children. There isn't any more promiscuity with this setup than with the old marriage arrangement."
According to Weir, The Grateful Dead are just as happy on stage as they are off. "We are soul brothers," he says. "We've known each other for six years. I think our brand of music reflects our relationship."
The Grateful Dead is comprised of Jerry Garcia (lead guitar), Phil Lesh (bass), Ron "Pigpen" McKernan (vocals), William Kreutzmann and Mickey Hart (drums), Tom Constanten (keyboard), and Weir.
They're all from San Francisco and still make their homes not far from the Bay City. "We live on ranches," says Weir, "and we see quite a bit of each other socially."
When The Grateful Dead started, they didn't cash in on their fine, driving acid rock sound. They kept giving free concerts, especially in the "love" center of Haight Ashbury. Eventually, they were talked into signing with a record company. Today, The Grateful Dead are with Warner Bros. Records, and their latest album - which is their fifth - is called Workingman's Dead.
The Grateful Dead's first two LPs, "The Grateful Dead" and "Anthem of the Sun", immediately established them as one of the grooviest groups in the country. The outfit encountered quite a bit of trouble finding a name for itself at the start. They began in 1964 as Mother McCree's Uptown Jug Champions, but soon discarded the title.
"We liked the name, The Warlocks, but some other group had attached themselves to it," says Weir. "For an entire week, we threw names around, mostly and found 'the grateful dead.' It supposedly was an ethno-musicological term which meant a genre of ballads that were sung in Ireland many years ago."
Weir claims they've had no regrets regarding the choice of the name. "Oh, once in a while," he says "a person will tell us he shudders at the word 'dead.'"
The Grateful Dead's major appeal is to college kids and dance hall crowds. "But we get some teenyboppers and a few grandparents, too," says Weir. "The day where gals ripped clothes off musicians is over. I became convinced of that at the recent Rolling Stones concert. The girls didn't chase anybody. When the gig was over, they went home quietly."
For many Deadheads, the first time they ever heard of Port Chester was when they saw the name written on a cassette tape.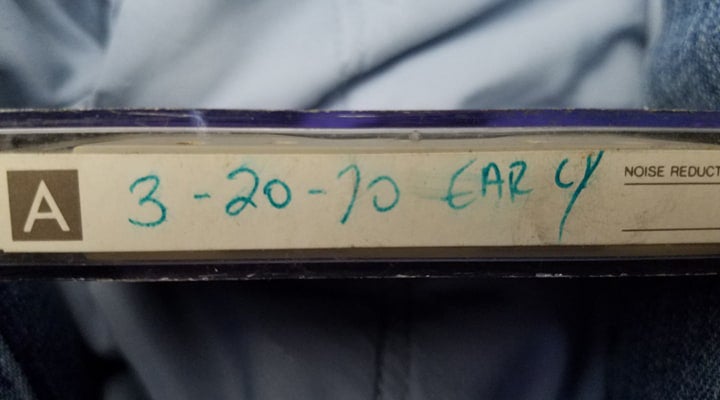 While working at The Capitol Theatre in our 1970s heyday, Ken and Judy Lee preserved history. The live Grateful Dead shows that they recorded have been freely shared and circulated for decades, and thanks to them, we have been able to explore and experience our past. We are forever grateful for their dedication. When asked, "What was it about the Grateful Dead and The Cap that made the magic so very magical?" Ken and Judy's answers still ring just as true today.
"For us, it was the sense of family and being in our second home. The whole audience, staff and show folks were quite similarly engaged in exploration in all directions at once."
"Once in a while you get shown the light." If you look close enough, you can find the Grateful Dead's influence all over Port Chester in the most unique and unusual places.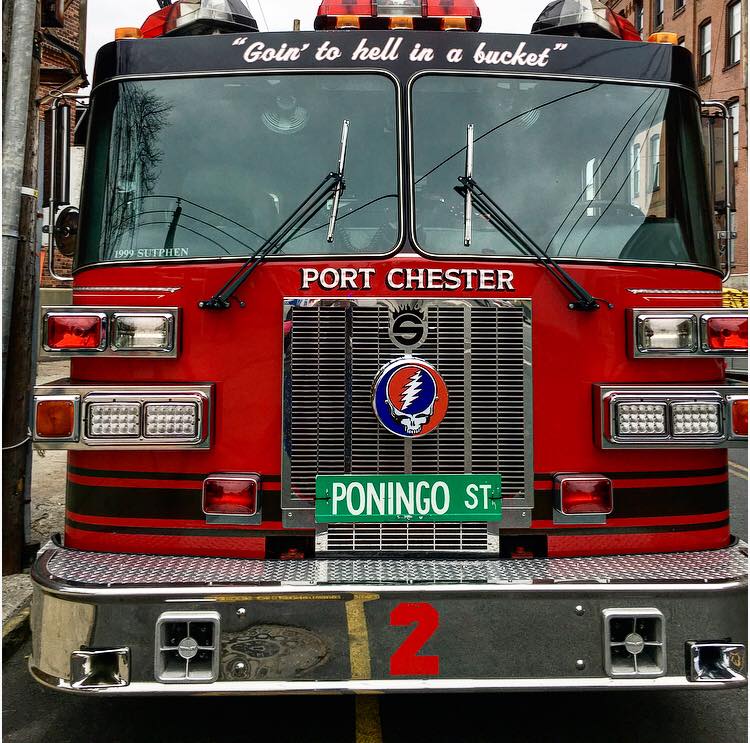 The heroes of Port Chester's Harry Howard Hook & Ladder Co. #1 share tales from the long strange trip that is Dead fandom—including inducting Phil Lesh as an honorary member. From their Dead-decked out truck, to the Stealies on their shirts, these guys are always willing to be Port Chester's Help On The Way.
Top