International Day of Peace: 20 Songs About Peace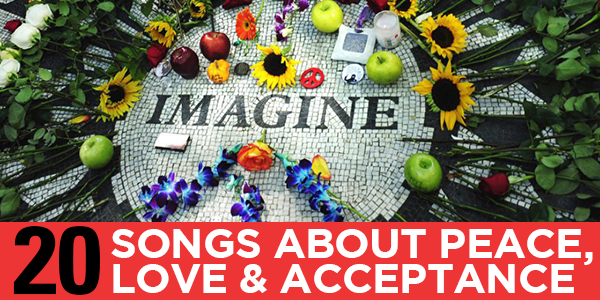 "When the power of love overcomes the love of power, the world will know peace." - Jimi Hendrix. Happy International #PeaceDay! 🌎✌🏿❤️
1. Bob Dylan, "Blowin' in the Wind" (1963)
"The answer, my friend, is blowin' in the wind"
Bob Dylan's poetic lyrics speak to our hearts on so many occasions, and "Blowin' in the Wind" brings to us a timeless message of peace. The question of why there is suffering in the world has long been pondered, and there still never seems to be an answer. Dylan captures this frustration beautifully, and brings us a sense of peace in that we are all joined together in our hopes for peace.
2. The Byrds, "Turn! Turn! Turn! (To Everything There Is a Season)" (1965)
"A time to gain, a time to lose/ A time to rend, a time to sew/ A time for love, a time for hate/ A time for peace, I swear it's not too late"
The Byrd's psychedelic twist on the folk classic holds a message that is strongly resonate with reality: that there is a time for everything, and despite the struggles we all face, peace is bound to come. Its cyclic lyrics and hypnotic melody capture the turning nature of time, all while its jingle-jangle guitar riffs keeps the song uplifting and full of the hope that the world needs.
3. Buffalo Springfield, "For What It's Worth" (1967)
"It's time we stop, hey, what's that sound, everybody look what's going down"
While there was strife in Vietnam during the war, there was also violence occurring at home in the U.S., often in backlash against the political environment that people were living in. Our country and world are still no strangers to protests, and Buffalo Springfield's "For What It's Worth" brings to light the unrest that had occurred at the time, and still occurs today. Its lyrics call us to pay attention to protests that morph into riots, and to turn our hearts to peace.
4. The Beatles, "While My Guitar Gently Weeps" (1968)
"I look at you all, see the love there that's sleeping/ While my guitar gently weeps"
"While My Guitar Gently Weeps" lets us see through the eyes of an onlooker who watches the world as it turns, its situation still dire. It seems the weeping of his guitar is the only life there is, and its music grieves at the silent destitution. This Beatles classic emphasizes the role of the electric guitar during the period, during which the instrument often served as the spokesman for a restless and frustrated generation of youth. George Harrison's lyrics paint the story of a man with his guitar, while Eric Clapton contributes the wailing guitar that cries at the sight of suffering. This song captures the significance of music as a means for expressing peace when it seems that there is nothing left.
5. Creedence Clearwater Revival, "Fortunate Son" (1969)
"It ain't me, it ain't me, I ain't no military son"
This anti-war anthem blasts forward the climate of the late 60s, when the cultural and social resistance against the Vietnam War was at its height. Emotions of fear and anger among the youth culture were rampant, and John Fogerty's battle-cry vocals capture the experience of those living through the trauma of being called off to war with relentless honesty and power. With this song CCR brings into question the issues of violence and oppression that are inherent aspects of war, and they make clear what countless peace activists were fighting for during the Vietnam War period.
6. Jimi Hendrix, "Star Spangled Banner" (1969)
The historic moment that still sends shivers down countless spines, Hendrix's impromptu performance of the national anthem doesn't need a single word to express its desperate call for peace. During his Woodstock performance, the veteran shocked his band and audience by breaking into a massive feedback frenzy, in which you can clearly hear the sounds of war violence and grief. Playing "Taps" at one moment in the song, he recognized all the lives of soldiers lost, and allowed the audience on the fields that day to sonically experience the horrors of war. Hendrix's performance is arguably the most impassioned peace anthem that exists, and still resonates strongly with us today.
7. Grateful Dead, "Ripple" (1970)
"Let there be songs to fill the air"
This Grateful Dead song sends out a simple yet profound message: even when it seems that all is lost, there is always music. There's a reason why musicians seem to always find their way into peace movements and expression, and "Ripple" speaks to the power that music has in bringing people together and creating hope. When we have nothing else, music will always be there to bring about change and peace.
8. John Lennon, "Imagine" (1971)
"Imagine all the people living life in peace"
In perhaps his most significant contribution to the peace movement that he loved and lived by, John Lennon paints a picture of what it would be like to live in a world joined together in peace. He invites us to question our values and understandings of the world we live in, and to imagine one which is simpler and where we all live in peace. The importance of "Imagine" will continue to live on as it should, and holds a precious place in the hearts of those who yearn for peace.
9. Eric Clapton, "Let It Grow" (1974)
"In the sun, the rain, the snow/ Love is lovely, so let it grow, let it grow"
There are times when it feels that we have nothing left, except our search for an answer. Clapton tells us in this beautiful song that when we are lost and are struggling to get by, the answer is to foster our love and let it grow. No matter how dire life may be, our best hope lives in our hearts.
10. The Derek Trucks Band, "Something To Make You Happy" (2009)
"It we don't spread love through the land/ It'll sure enough be dry"
This song embraces the power of love in creating peace, and expresses that we are better off together than alone. Even if it's as simple as standing by those we love, we can help to ward off the brutalities that we face in the world and make it a better place.
11. Bob Marley and The Wailers – "Fussing and Fighting" (1971)
"We should really love each other in peace and harmony, instead we're fussing and fighting."
If you're looking for an artist that inspires to love, and to create peace, and prosperity, Marley's lyrics brought the feeling of acceptance and anti-hate ion his music. "My father had a true revolutionary spirit that continues to inspire and empower people of all ages and ethnicities," said Cedella Marley, Bob Marley's oldest child. "Fussing and Fighting" is a powerful song responding to all the negativity in the world and how we need to end that by continuing to love each other.
12. The Cranberries - "Zombie" (1994)
"Another head bangs slowly, child is slowly taken and the violence cause such silence. Who are we mistaken?"
The Cranberries wrote this song protesting violence, which is sadly still prevalent in the world today. "Zombie" was written during the Cranberries' English Tour in 1993, in memory of Jonathan Ball and Tim Parry, two boys who were killed in the IRA bombing in Warrington earlier that year
13. Anti-Flag - "911 for Peace" (2002)
"Greed, envy, fear, hate -- the competition has to stop. When you see someone down, now's the time to pick them up... Isn't everybody tired of hatred?"
This in-your-face song is all about spreading the message that peace is the solution to our world problems. Instead of fighting each other, it's best to be supporting one another. Anti-Flag is making themselves heard. If we want peace and not war, ACT NOW
14. Green Day - Holiday (2004)
"I beg to dream and differ from the hollow lies, this is the dawning of the rest of our lives, this is our lives on holiday."
Green Day refers to how we, the people, sit back and watch the trouble of our country (as if it's a holiday). Rather, we need to stand up and make a change. This particular lyric is the refusal of believing what we are being told by the media about the war. If there is no peace, the war will change our lives for the worst.
15. John Butler Trio - Fire In The Sky (2007)
"But I don't understand how one can kill a man in the name of peace, that's ridiculous."
John Butler uses his music and voice as a tool for creating positive change. In this song, Butler claims how war is unnecessary in the "name of peace." It's a beautiful statement because of its honesty and transparency.
16. Matisyahu - One Day (2009)
"One day this will change, treat people the same, stop with the violence, down with the hate. One day we will all be free."
Matisyahu refers to the difficulty of staying in peace and unity, but it is an issue that needs to be addressed and solved. This song became very popular during major sporting events; it caught a lot of attention by the media during its time. If we keep striving for peace and equality in race, class, and gender, then we will continue to progress as a people.
17. Rebelution - Good Vibes (2012)
"Don't judge a book by its cover. People take a look at the world and discover that beauty is the world that I think of when I see different colors of the skin, and I'll rejoice and sing for them."
Racism is a major complication in today's world, and has been for a very long time. This song promotes how beauty is everyone, inside and out; that no matter who we are or where we come from, we should all be treated equally. Rebelution believes in equality for the world. They're also outstanding live! You feel peace all around.
18. 311 - Tranquility (2014)
"Every time that you ignore it, it gets a little more; you just have to walk toward the fear to go."
Of course we want peace in our world, but sometimes, we needs peace within ourselves first. 311 speaks about facing your fears, and learning from your mistakes. Sometimes there are times in one's life where he or she may need peace now more than ever.
19. Arcade Fire feat. Mavis Staples - I Give You Power (2017)
"I give you power, but now I gotta be free. I give you power, but now I say. I give you power, I can take it away."
Our current political environment is unhealthy and we are divided as a nation. This song translates that power isn't everything and that we can make a difference as a people.
20. Portugal. The Man - Feel It Still (2017)
"It's time to give a little to the kids in the middle, but oh until it falls won't bother me."
Singer and songwriter John Baldwin Gourley of Portugal. The Man said, "With all the talk right now, of building a wall at our borders, and the Berlin Wall, it was so much just like the image that you had in your head growing up that these people are separated by a wall, and why do we need that?" It becomes real unfortunate that we have these children being raised watching the separation between our country and other.
Top