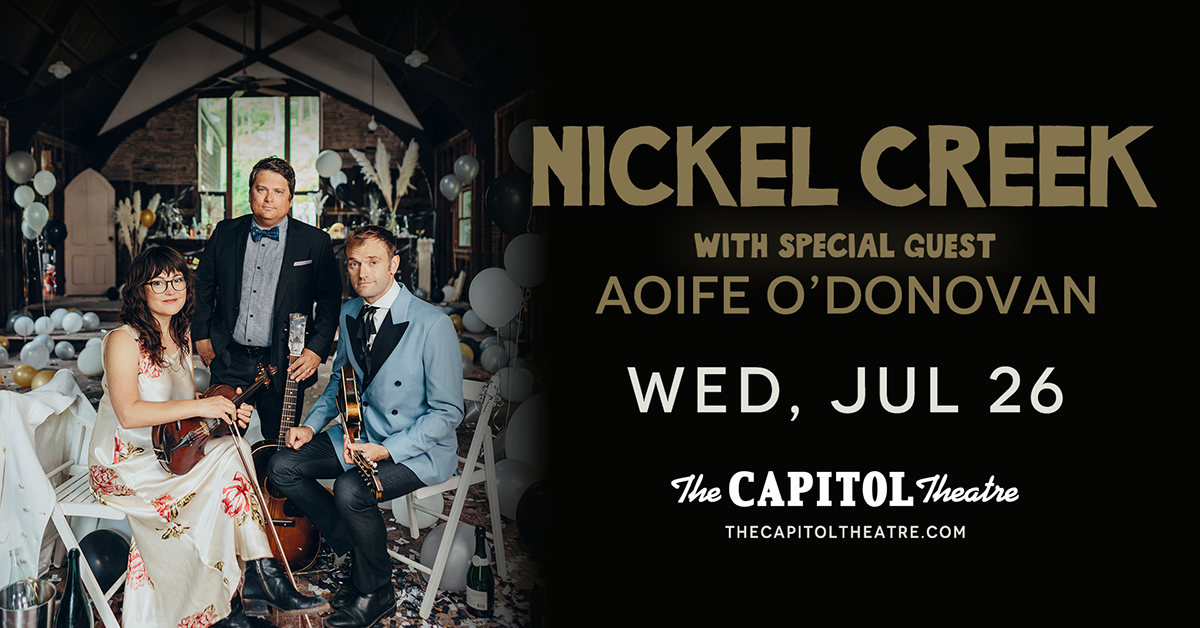 Getting to Know Nickel Creek
Nickel Creek emerged from the fertile soil of Southern California in the mid-'90s. Chris Thile, Sara Watkins, and Sean Watkins, breathed new life into bluegrass, giving it a youthful spirit that caught the ears of both purists and traditional listeners. There is no doubt that these three talents have contributed to the incredible unique sound, as they have all had successful individual careers. So gather round, because it's time for some old fashioned foot stomping' bluegrass. We've gone back and found three impeccable moments, each from one of the members, to get you excited for Nickel Creek at The Cap on Wednesday, July 26.
When Nickel Creek comes together, it's a force to be reckoned with. The trio formed in 1989 after their paths crossed when Sean met Chris through their mutual tutor. Chris and Sara were only eight, and Sean was twelve. From their humble beginnings meeting weekly at a show in a pizza parlor, Nickel Creek rose to great heights. It was clear they were young prodigies as the trio soon became a fixture at bluegrass festivals in the '90s. They have since then earned a number of CMA nominations and a Grammy in 2003 for Best Contemporary Folk Album.
1. Chris Thile
Thile has been the leading mandolin virtuoso of his generation. There's no doubt that Thile is one of the most celebrated players since breaking out of the San Diego traditional music scene, with epic collaborations, bands, and ways to showcase his immense talent. "Live From Here," the Thile-hosted radio variety show had him collaborating with Norah Jones, Marcus Mumford, Bon Iver, Trey Anastasio, and more. One moment that shines bright in his career is when Chris Thile shared the stage with none other than Dolly Parton. Thile's nimble fingers danced across his strings, perfectly complementing Parton's timeless voice. Together, they created an unforgettable musical experience, fusing bluegrass mastery with country charm.
2. Sara Watkins
Sara got her start with Nickel Creek and has been continuously gaining momentum in americana circles in the 00s. From there, Watkins began playing sessions, appearing on records from rockers and country artists alike, establishing herself as a musical force in her own right, as one of the most sought after fiddle players in the country. Watkins effortlessly weaves together elements of folk, americana, and roots music, creating a tapestry of sound that is uniquely her own. With an appearance on the Late Late Show, she transports the audience to a world of heartfelt storytelling. We can't wait to witness Sara Watkins's talent and feel the raw emotion in each and every note firsthand.
3. Sean Watkins
The Watkins' are clearly a musically gifted family. Sara's brother, Sean, showed virtuosic talent at just 16 years-old, reaching the finals in both mandolin and guitar at the National Flatpicking Championship. Sean gives us a sneak peak of his capabilities as he unveils the secrets behind his iconic guitar style in this interview with Jackie Greene on the D'Addario and Co. channel. Watkins delves deep into the techniques and influences that shape his approach. With a blend of masterful fingerpicking, lightning-fast runs, and soulful melodic phrasing, he captures the very essence of bluegrass music. Sean seamlessly blends tradition with innovation, pushing the boundaries of what's possible on six strings.
Our anticipation for Nickel Creek on Wednesday, July 26 is at an all time high. The harmonies of Chris Thile, the tales of Sara, and the musicianship of Sean Watkins lay the groundwork for another night of pure magic. Nickel Creek's timeless celebration of artistry will transport you to the very heart of bluegrass brilliance.
Words by Riley Bazaar
Top