Celebrate the Allman Brothers at our AllmanCenter series every Wednesday in March!
Hello Midnight Riders! 🍄 In March, we're celebrating the legacy of the Allman Brothers Band all month long in line with their annual residency at the Beacon Theatre. Every Wednesday in March, come to Garcia's and hear local tribute SoulShine perform ABB albums in their entirety, such as Allman Brothers Band, Brothers & Sisters, and Live At The Fillmore East, as well as Friends of The Brothers, featuring Junior Mack, Andy Aledort, Alan Paul, Eric Finland, Dave Diamond, Craig Privett, and Lee Finkelstein. In addition to the albums, SoulShine will play a second set of Allman Brothers classics at each of their shows. All events are fueled by our friends at Lagunitas, which means we'll have craft beer and jams flowing all night long!
We've put together an outline of what you'll see each night at AllmanCenter this March. Read a little bit about the classic Allman Brothers albums being featured, as well as background on the Friends of the Brothers below and get tickets now!
ALLMANCENTER AT GARCIA'S THIS MARCH
Allman Brothers Band was the brothers' debut studio album, and features hits like, "Whipping Post," "Black Hearted Woman," and "Trouble No More."
A few fun facts:
• The Allman Brothers Band album was recorded in just two weeks.
• According to biographer Alan Paul (Friends of The Brothers), "virtually no outtakes exist from the sessions." The band had performed their songs countless times in the preceding months and had them down cold.
• "Whipping Post" came to Gregg Allman shortly before bed, but he couldn't find a pen and paper and couldn't turn on the lights because there was a child sleeping in the room. In lieu, he struck two kitchen matches: one for light and one, later blown out, as a charcoal writing utensil, and wrote down his lyrics on a bedside ironing board. The song is ranked on Rolling Stone's "500 Greatest Songs of All Time" list.
Brothers & Sisters is the Allman Brothers Band fourth studio album and includes some of the band's most iconic songs, such as "Ramblin' Man," "Jessica," and "Pony Boy."
A few fun facts:
• Thanks to "Ramblin' Man," the band saw their first appearance in the top 40 of the Billboard Hot 100
• Brothers and Sisters, which had entered the chart just two weeks before, completed its climb to No. 1 and it would stay for five impressive weeks.
• The front album cover features a photograph of Vaylor Trucks, the son of drummer Butch Trucks and his wife Linda. The back cover features a photograph of Brittany Oakley, the daughter of Berry Oakley and his wife, Linda.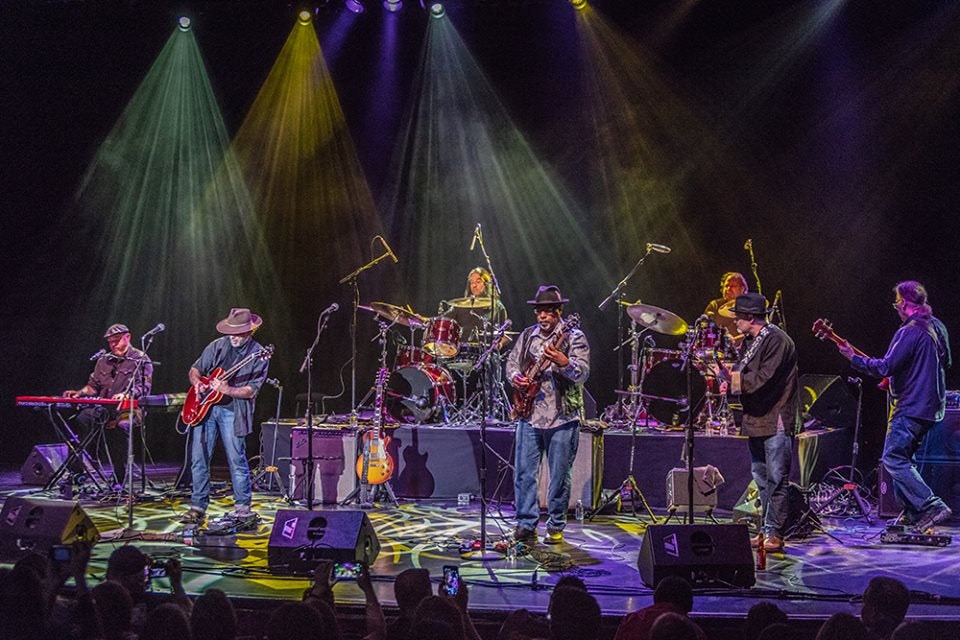 The Friends of the Brothers is a collective of touring and session musicians, all with close associations with the original brothers. Read a bit about each member below!
JUNIOR MACK
Junior Mack has been playing guitar in Jaimoe's Jasssz Band since 2006, and has sat in or worked with The Allman Brothers Band, Warren Haynes, Derek Trucks, The Marshall Tucker Band, Robert Randolph, Dickey Betts, and Cyndi Lauper.
Catch him at LOCKN' Music Festival with Oteil & Friends alongside Oteil Burbridge, Eric Krasno, Jen Hartswick, and more!
ANDY ALEDORT
Andy Aledort has been touring with Dickey Betts of the Allman Brothers playing slide guitar for the last 8 years - he is also a Senior Editor for Guitar World Magazine.
ALAN PAUL
Alan Paul is the author of One Way Out - The Inside History of the Allman Brothers Band, which covers 25 years of reporting on the band.
ERIC FINLAND
Eric Finland has toured internationally playing keys for Dan Akroyd's Blues Brothers Tour with Paul Shaffer, has toured with Jaimoe's Jasssz Band, and has worked shows with Gregg Allman.
DAVE DIAMOND
Drummer Dave Diamond is a founding member of the Zen Tricksters and a frequent member of the Assembly of Dust.
CRAIG PRIVETT
Bassist Craig Privett is a member of Half Step, a locally beloved Grateful Dead cover band.
LEE FINKELSTEIN
Lee Finkelstein currently tours with the Original Blues Brothers, and has performed with Tower of Power, Donna Summer, and co-founded the Funk Filharmonik.
At Fillmore East was the Allman Brothers Band first live album and is still considered to be one of the best live albums to this date.
A few fun facts:
• Before headlining the Fillmore East in March of 1971, venue promoter Bill Graham had the brothers open for Buddy Guy and B.B. King at Fillmore West, as well as for the Grateful Dead at Fillmore East a month later. According to Alan Paul, "these shows were crucial in establishing the band and exposing them to a wider, sympathetic audience on both coasts."
• The album was certified platinum on August 25, 1992, marking the first platinum album for the band,
• In 2004, the album was selected for preservation in the Library of Congress, deemed to be "culturally, historically, or aesthetically important" by the National Recording Registry.
Top