10 Things You Will Never Understand Until You Listen to the Grateful Dead's 5/8/77 Cornell Show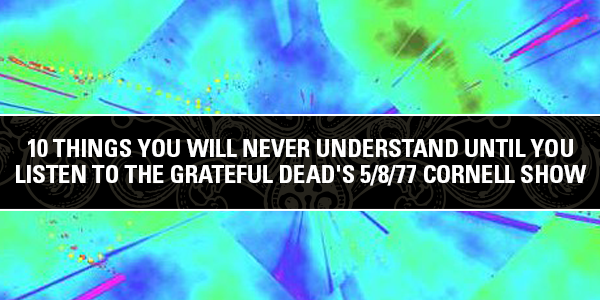 Cornell 5/8/77 is a live album by the Grateful Dead that was recorded on May 8, 1977, at Barton Hall, Cornell University, in Ithaca, New York. On the anniversary of this legendary show, we've put together a list of things you'll never understand unless you've turned on and tuned in to this classic show.
1. Hearing one of the most monumental "Morning Dew" performances of all time.
We never forget the songs that change us most in life and we'll always remember the experiences we had hearing them for the first time. Barton Hall's setlist is quite legendary, with standout performances of "Scarlet > Fire" and "St. Stephen > Not Fade Away > St. Stephen." However, it is the second set closer of that night that has helped cement the show into the hearts and minds of those who listened. The "Morning Dew" masterfully executed by Garcia spans 13 minutes long and features one of the most intense closing instrumentals we've ever heard.
2. How to properly celebrate a legendary show in Grateful Dead history.
This "Holy Grail" of Grateful Dead concerts has gone down in history, and is even documented in the Library of Congress due to its "cultural significance." The show made such an impression on Cornell and the town of Ithaca that May 8 was officially declared 'Grateful Dead Day' by the Tompkins County Legislature. On the 40th anniversary of the show, the Cornell Chimes played Grateful Dead songs from atop Cornell University's McGraw Tower. Now that's how you celebrate!
3. Can you or can you not play "One More Saturday Night" on any other night besides Saturday?
On May 8, 1977, the Grateful Dead closed out their show with a rocking performance of "One More Saturday Night." Despite that fact the show took place on a Sunday, which begs the question, what day of the week is it acceptable to play "One More Saturday Night?" One could argue that the best time to play the song is whenever Bob Weir feels like it!
4. The hilarity of Grateful Dead stage banter.
Ah, yes every Deadheads favorite fun game to play. Among the explosive renditions of classic Dead tunes hides a golden clip of Bob Weir and Jerry Garcia banter. It goes something like this below.
Bob: Alright, now we're gonna play everybody's favorite fun game, move back!... Now when I tell you to take a step back, everybody take a step back! Right? Right! Okay, take a step back! And take another step back! And take yet another step back! And another step back! Take a step back! Doesn't everybody feel better?... Whatdaya mean, NO?!?
Jerry: See all these people up front are getting horribly smashed here. That means all the people in the back have to move back. If you just move back some...
Bob: Then all your friends up front won't look real bug-eyed.
5. Wishing you could bottle Phil Lesh's bass and take it with you everywhere.
There are few instruments that can actually alter the organic structure of matter, the electric bass being one of them. When in the right hands the instrument has been known to turn solids to liquids when wielded correctly. A prime example of this is Phil Lesh's opening riff on Cornell 77's "Scarlet Begonias," which successfully melted the majority of the audience's faces at the time. Phil's bass shines throughout the show in songs like "New Minglewood Blues" and "St. Stephen" making us wish we could bottle his sound and take it with us wherever we go.
6. Wondering how in the world are you ever going to hear another "Dancing in the Streets" again.
Never will the energy in the air be as perfect or the sound so pure to recreate the divinity of 5/8/77. This is how many Deadheads feel about the 16-minute version of "Dancing in the Streets" that the Grateful Dead dished out at Barton Hall. The Cornell "Dancing in the Streets" is regarded to be one of the best versions of the song ever played.
7. That the famed "Betty Boards" are a true blessing.
The soundboard recording was made by longtime Grateful Dead audio engineer Betty Cantor-Jackson. Cantor captured many famous shows but perhaps her most famous recording or "Betty Board" is that of Barton Hall. What's crazy is that this show's recording could have been lost forever. Back in May of 1986, an auction took place in Marin County that sold 1,000 reel-to-reel soundboard tapes of the Grateful Dead, originally recorded by Cantor-Jackson between 1971-80. The Betty Boards were sold into private hands but eventually, the epic shows found their way into circulation. The best known of these treasures is Cornell's Barton Hall show from 5/8/77.
8. That when the stars align magic truly does happen.
The Grateful Dead created a masterpiece on May 8, 1977. Everything lined up perfectly to put us where we are now. 42 years later, and the music has never stopped! We're still celebrating this milestone in Grateful Dead history.
9. This show is just one of many "best shows" ever.
This show is seen by many Deadheads as one of their best. Yet, many feel that so many shows from May of 1977 are of this caliber that this show isn't even the best show of that week!
10. "Listening to Music" means something very different to Deadheads.
Some people go to church to get spiritual, we listen to music.
Top