10 of the Most Famous Students of Joe Satriani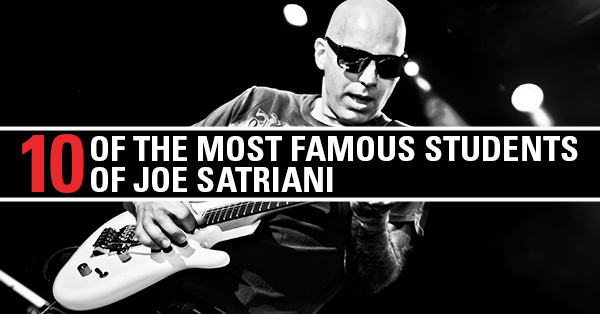 "[My students were] so much fun to teach because they were so motivated. They were just great… I just tried in the first couple of minutes to be very attentive to how much the student's got going for them and in what areas. And to try to understand what it is they hoped to get out of the lesson. I suppose after that the most important thing is you have to be comfortable surrendering everything you know. There can be no hidden secrets. You can't hold back and have that thought like, 'If I show this guy how to do this then he'd steal it from me. He might get more famous than me." -Joe Satriani
1. Steve Vai
At the age of fourteen, Steve Vai showed up to Joe Satriani's home in Westbury, Long Island, guitar in hand, with no strings attached. Vai asking Satriani to teach him how to play. This moment began a life-long friendship, and partnership between the two guitartists. Vai said, "I took lessons with him for three years and he was very good because he didn't tell me that I had to play like him or that I had to do things this way or that way. He explained why it was important for me to figure out things on my own."
2. Larry LaLonde
LaLonde began playing guitar at a very young age, inspired by iconic musicians such as, Jimi Hendrix, Jerry Garcia, Frank Zappa, and more. LaLonde began taking lessons from Satriani in 1983 when LaLonde was the lead guitarist of Possessed, a trash-metal band. Satriani has explained LaLonde as, "Really physically talented on the guitar. Larry was a great player – very well-versed in all forms of rock music, and played blues. Just amazing… Larry had a very unique way of looking at music."

3. Rick Hunolt
Hunolt is a heavy metal guitarist who got his start in the band Exodus in 1983. Before joining the band he was a student of Satriani. Hunolt stayed with Exodus through the early 1980s and 1990s before rejoining the band in 2012 for a reunion tour.
4. Charlie Hunter
The story starts when a young Charlie Hunter goes into a secondhand guitar shop in Berkley, California, accompanied by his mother and walks out the new student of Joe Satriani. Not many people believe that Satriani taught Hunter because of their widely different guitar styles, but Satriani did not teach a specific style of guitar playing, he solely taught him how to play guitar.
5. David Bryson
Bryson is a guitarist and vocalist for the band Counting Crows. Known now for his unique guitar set-ups and exciting performances, Bryson got his start playing guitar with the teachings of Joe Satriani in Berkley, Caifornia.
6. Kevin Cadogan
Kevin Cadogan began playing the guitar at the young age of 12. Early in his career he took lessons from Satriani. Cadogan's unique guitar playing has been praised by many, including producer Eric Valentine who stated, "Kevin is simply one of the most inventive, musical guitar players…and creates a seemingly endless supply of ear catching guitar riffs. Whether its crazy alternate tuning, beating the guitar with a mic stand or using a slide like a violin bow, Kevin is always experimenting with ways to pull new exciting sounds out of the guitar."
7. Alex Skolnick
Skolnick first picked up a guitar at the age of nine. He first began lessons with Satriani when he was 14 and continued for 2 years. Skolnick explains Satriani's teachings as, "very strict, and very serious. It was a bit of a bold move to take lessons from him." Skolnick went onto being the lead guitarist of thrash metal band Testament, and gained his name of being one of the fastest guitarists in the world.

8. Kirk Hammett
Hammett got his start in the band Exodus in 1983. At the time he was taking lessons from Satriani, he was asked to join the band Metallica. Satriani recalls that "When the young Kirk Hammett was walking in the door, I thought, 'This is the future.'" Satriani was Kirk's teacher for two years until Satriani's album became very successful, which resulted in Hammett being his last student.
9. Geoff Tyson
Geoff Tyson is an extraordinary guitar player, and a student of Joe Satriani. Satriani stated that Tyson was one of two players that "graduated" from his lessons, Steve Vai being the other. Tyson has been said to be one of the greatest guitar players of all time and he has toured with various artists such as, Ugly Kidd Joe, Joe Satriani, White Zombie, Tora Tora, Asphalt Ballet, and many more.
10. Phil Kettner
Kettner is the lead guitarist of the metal band Laaz Rockit. Working as a student of Satriani, Kettner learned the skills he needed to be one of the most renowned guitar players in his time.

Top